Indices
Trade on Basket of top shares representing the performance of a country's economy. Choose from over 90 cash and forward indices instruments, including the UK 100, US 30 and Germany 30
or

Open Demo Account
HonorFX offer CFD trading for spot indices on some of the world's most active securities, meaning that you can choose to buy and sell indices at their spot price to suit you and your trading strategy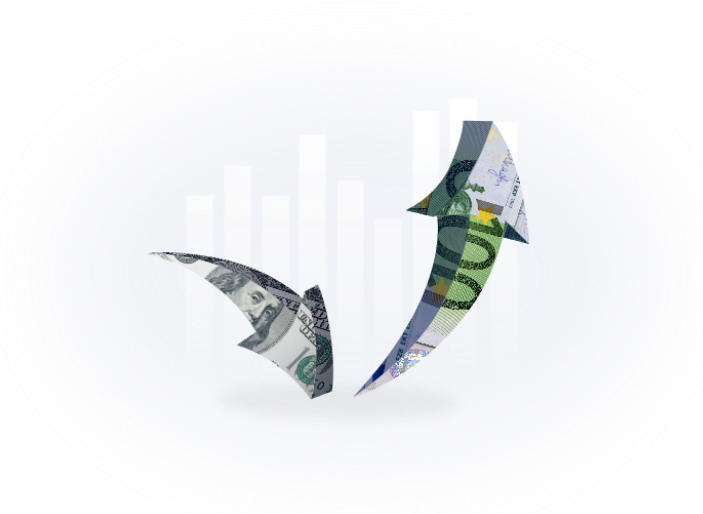 What are
Indices ?
Indices offer a great way for you to trade on the overall value of a regional index without having to analyse individual companies or stocks. The index itself represents the value of a group of stocks from one country and shows the overall, current, and historical performance of that stock index.

There are many types of indices available to trade at spot price or through forward trading. Economic news such as interest rate freezes, inflation and rises in spending can all cause the value of Indices to rise or fall. In some respects, bigger companies can affect the performance of a particular index due to their size and market dominance.
Types of Major

Global Indices
Each index measures a group of the stock market. Usually, the group is a country but it can be just an industry sector, like technology or industrial. Here are the most popular:
Dow Jones (DJ 30),

is made up of the 30 biggest industrial companies in the U.S.

S&P 500,

It represents 500 companies from the U.S.

NASDAQ 100,

measures the 100 major tech companies in the U.S.

DAX 30,

it's the German index. It includes the 30 leading German companies.

FTSE 100,

groups the top 100 companies of the U.K.

CAC 40,

represents the best 40 French companies.

NIKKEI 225,

it's the index from Japan. It contains the 225 biggest companies in the country.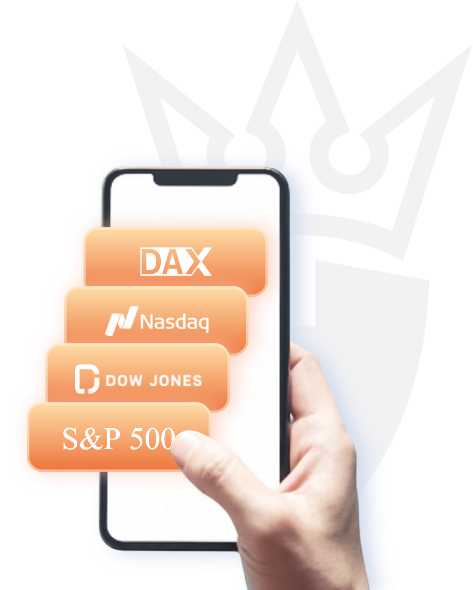 Trader speculates an Index will increase in value.
Stocks within Index increase in value, increasing Index value.
Trader earns profit.
How Do You
Trade In Indices
Indices are traded the exact same way as forex or stocks. You open a trade in one direction, and you earn money if the price goes in that direction. If the price comes against you, then you may lose money.

As indices are made up of groups of firms, there are a number of different factors that affect the price of the index. The price movement of an index is likely to be much smoother than other financial instruments, as one individual stock can't bring about a huge rise in price. However, there is significant volatility in indices as they can reflect broad political and economic shifts.

Since indices trend a lot, the best strategies to trade them are trend follow strategies.

Advantages of Trading Indices
with HonorFX
Diversify your portfolio.
Performance dependent on economic trends
Indices CFD
Product Details
View our minimum spreads and margins, plus trading hours, for our CFD cash indices (unless stated).
Spot indices
Dated indices mini
Symbol
Descriprion
Digits
Margin
Min Trade Size
Contract Size
Trading Hours GMT
DAX30
DAX Performance Index - Cash
3
1%
1%
1
Sun 22:00 to Fri 24:00
ESP35
Spain IBEX 35 Index
1
1%
1%
1
Sun 22:00 to Fri 24:00
ESX50
Euro Stoxx 50 Index
1
1%
1%
1
Sun 22:00 to Fri 24:00
JPN225
Nikkei 225 Index
1
1%
1%
100
Sun 22:00 to Fri 24:00
CAC40
France 40 Index
1
1%
1%
1
Sun 22:00 to Fri 24:00
NAS100
NASDAQ 100 Index
1
1%
1%
1
Sun 22:00 to Fri 24:00
SP500
S&P 500 Index
1
1%
1%
1
Sun 22:00 to Fri 24:00
SMI200
Switzerland 20 Index
1
1%
1%
1
Sun 22:00 to Fri 24:00
WS30
Dow Jones Index
1
1%
1%
1
Sun 22:00 to Fri 24:00
UK100
FTSE 100 Index
1
1%
1%
1
Sun 22:00 to Fri 24:00
Symbol
Descriprion
Digits
Margin
Min Trade Size
Contract Size
Trading Hours GMT
YM
Down Jones Mini Future
2
0%
0.01
5
Sun 22:00 to Fri 24:00
ES
S&P 500 Mini Future
2
0%
0.01
50
Sun 22:00 to Fri 24:00
NQ
Nasdeq 100 Mini Future
2
0%
0.01
20
Sun 22:00 to Fri 24:00
AX
Dax Future
2
0%
0.01
25
Sun 22:00 to Fri 24:00
Register
Open your live trading account with HonorFX
Verify
Upload your documents to verify your account
Fund
Login to your Client Portal and Fund your account
Trade
Start trading on more than 165 instruments